The Transfer Factor
Ali Darwish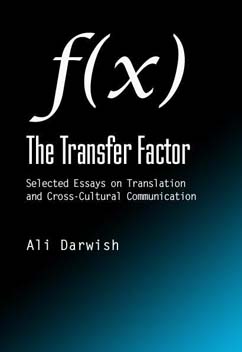 ---
Scores of publications have been produced over the past 30 years looking at translation from various individual perspectives and through the eyes of different schools of thought and disciplines. Yet surprisingly our endeavor to understand this important human activity is still in its early stages. This compendium of essays and research papers written by the author over a research period of ten years discusses the translation phenomenon in an unstraitjacketed, down-to-earth, realistic manner. The author draws on his 25 years of practical experience as a professional translator and technical communicator and 10 years as educator to explore practical issues such as the translation process, translation decision-making, translator training and translation evaluation, arguing for a knowledge-based model of translation.
"This collection of essays provides the translator with the luxury of being able to view their daily task through the eyes of a critical thinker and writer. And therein lies the richest gift of this book. It offers first hand knowledge from a highly experienced translatorís perspective that synthesizes the overall process and refines the key elements of content to a level of universal applicability."
Scott M. Rogers
Senior Translation and Cross-cultural Communication Consultant, Lecturer in Translation Studies
<![if !supportEmptyParas]> <![endif]>
<![if !supportEmptyParas]> <![endif]>
The Transfer Factor
By Ali Darwish, Lecturer, RMIT University, Victoria, Australia
(Author of The Translator's Guide and The Interpreter's Guide)
<![if !supportEmptyParas]> <![endif]>
Writescope Pty Ltd
Publication date: 10 May 2003
150 pp/$35.00
ISBN 0-957-751-192
For information please contact writescope@surf.net.au, or the Publicity Manager,
Writescope Pty Ltd, P. O. Box 418 Patterson Lakes, Victoria 3197, AUSTRALIA.
Release Contents Copyright © 2003 Writescope Pty Ltd
© 2005 Ali Darwish
All rights reserved. No part of the contents of this document may be copied, reproduced, or stored in any retrieval system, without the express permission of the author.
Please direct all comments on this page to darwish@surf.net.au
Back to Home Page