MEDIA RELEASE FROM WRITESCOPE PTY LTD
<![if !supportEmptyParas]> <![endif]>
<![if !supportEmptyParas]> <![endif]>
THE TRANSLATOR'S GUIDE
(Arabic Version)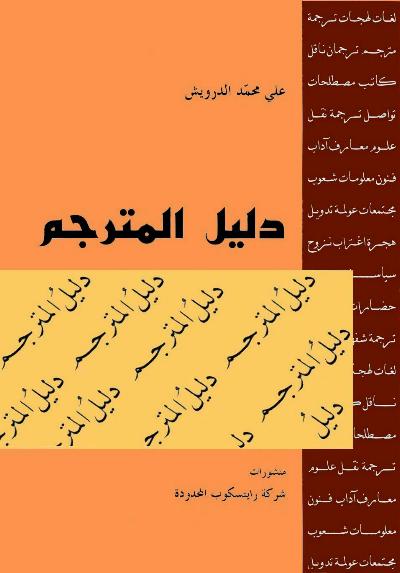 by
<![if !supportEmptyParas]> <![endif]>
Ali Darwish
<![if !supportEmptyParas]> <![endif]>
"The book provides a framework for teaching the subject of translation in a structured and practical fashion. If you have been looking for an Arabic textbook on translation, your search is over. The Translator's Guide is just such a textbook ... Not only is this book an academic textbook, but also the author, Ali Darwish, devotes a great deal of effort to provide practical examples through contrastive analysis of Arabic and English passages on the semantic, pragmatic and rhetorical levels."
<![if !supportEmptyParas]> <![endif]>
— Jeanette Hourani, SBS Journalist/Broadcaster
In today's climate of globalization, translation seems to have regained prominence in international communication. In a multicultural society that is Australia, translation is even more vital now than ever for the natural acclimatization of migrants who are gradually inured into their adopted country.  According to the author (SBS radio interview, 6 July 2001), Australia is sitting on a translation volcano. No one really knows how many unfortunate incidents have occurred because of erroneous translations. Unfortunately however, translator training has almost eclipsed in the last few years in the country — with the exception of a handful of courses offered by some universities.
<![if !supportEmptyParas]> <![endif]>
In Arabic, no translation textbook has yet been available to explain the dynamics of translation and provide a clear framework for translation between Arabic and English. In the book's introduction, the author observes that the Arabic library at large and domestically lacks serious books on translation theory and practice. (See book review below)
<![if !supportEmptyParas]> <![endif]>
The Translator's Guide is a new book on translation in Arabic written for translators, translation students and educators. Drawing on his extensive experience in both translation and technical communication, the author presents the subject in a structured fashion and provides practical and smart solutions to translation problems that often frustrate many practitioners.
<![if !supportEmptyParas]> <![endif]>
Ali Darwish is a technical communication and translation consultant with over 25 years of experience in Australia, Britain, United States and the Middle East.  He is currently lecturing at RMIT University.
<![if !supportEmptyParas]> <![endif]>
The Translator's Guide
By Ali Darwish
<![if !supportEmptyParas]> <![endif]>
Writescope Pty Ltd
Publication date: 22 June 2001
450 pp/$75.00
ISBN 0-957-751-109
For information please contact writescope@surf.net.au, or the Publicity Manager,
Writescope Pty Ltd, P. O. Box 418 Patterson Lakes, Victoria 3197, AUSTRALIA.
Release Contents Copyright © 2001 Writescope Pty Ltd
<![if !supportEmptyParas]> <![endif]>