The Interpreter's Guide

(Arabic Version)
Ali Darwish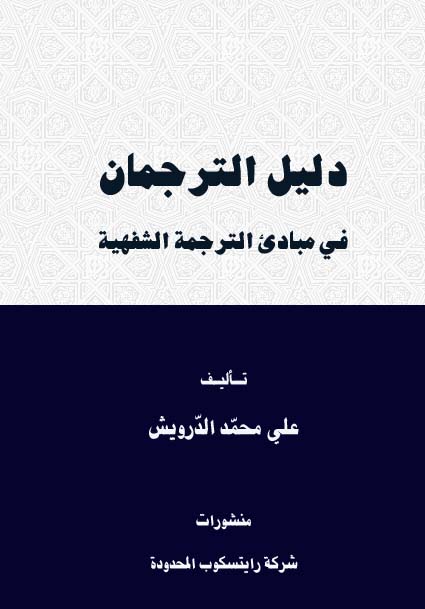 <![if !supportEmptyParas]> Book Review<![endif]>
<![if !supportEmptyParas]> <![endif]>
Written by a renowned expert in the field, this new book focuses on the dynamics of interpreting - its techniques, modes, conditions and prerequisites. It presents an easy-to-follow guide for interpreting students and practitioners to help them achieve accreditation and perform better. Drawing on state-of-the-art theories and models and on 30 years of experience as a practitioner in the Arab World, Britain and Australia and on 10 years of experience as a university teacher and examiner, the author has written an accessible guide to the art and science of interpreting.
The book is written in a programmatic approach— major topics are introduced in the early chapters and expanded in later chapters. For example, the different modes and types of interpreting are introduced in chapter two, and further discussed each in a separate chapter. This approach makes the book suitable for structured training of interpreters. It is not intended to be read as a novel from cover to cover in one sitting.
This book is an ideal guide for students, practitioners and teachers of Arabic/English interpreting.
<![if !supportEmptyParas]> <![endif]>
<![if !supportEmptyParas]> <![endif]>
The Interpreter's Guide
By Ali Darwish, Lecturer, RMIT University, Victoria, Australia
(Author of The Translator's Guide)
<![if !supportEmptyParas]> <![endif]>
Writescope Pty Ltd
Publication date: 10 January 2003
210 pp, paperback/$45 (GST inclusive)
ISBN 0-957-751-125
For information please contact writescope@surf.net.au, or the Publicity Manager,
Writescope Pty Ltd, P. O. Box 418 Patterson Lakes, Victoria 3197, AUSTRALIA.
Release Contents Copyright © 2003 Writescope Pty Ltd
TABLE OF CONTENTS
Preface: 

About this Book

Introduction: 

What is Interpreting?

Chapter 1

Bilingual Communication

Chapter 2  

Types and Modes of Interpreting (Liaison, Simultaneous, Consecutive, Telephone etc)

Chapter 3 

Memory and Interpreting

Chapter 4  

Prerequisites of Interpreting

Chapter 5  

The Role of the Interpreter

Chapter 6  

Principles of Interpreting

Chapter 7 

Elocution, Pronunciation and Public Speaking

Chapter 8  

Body Language

Chapter 9

Note-taking

Chapter 10

Implicature and Inference in Interpreting

Chapter 11

Liaison Interpreting

Chapter 12

Simultaneous Interpreting

Chapter 13

Consecutive Interpreting

Chapter 14

Ethics of the Profession

Chapter 15

Questions of Ethics

<![if !supportEmptyParas]> <![endif]>

References

<![if !supportEmptyParas]> <![endif]>

Index

<![if !supportEmptyParas]> <![endif]>
© 2005 Ali Darwish
All rights reserved. No part of the contents of this document may be copied, reproduced, or stored in any retrieval system, without the express permission of the author.
Please direct all comments on this page to darwish@surf.net.au
Back to Home Page